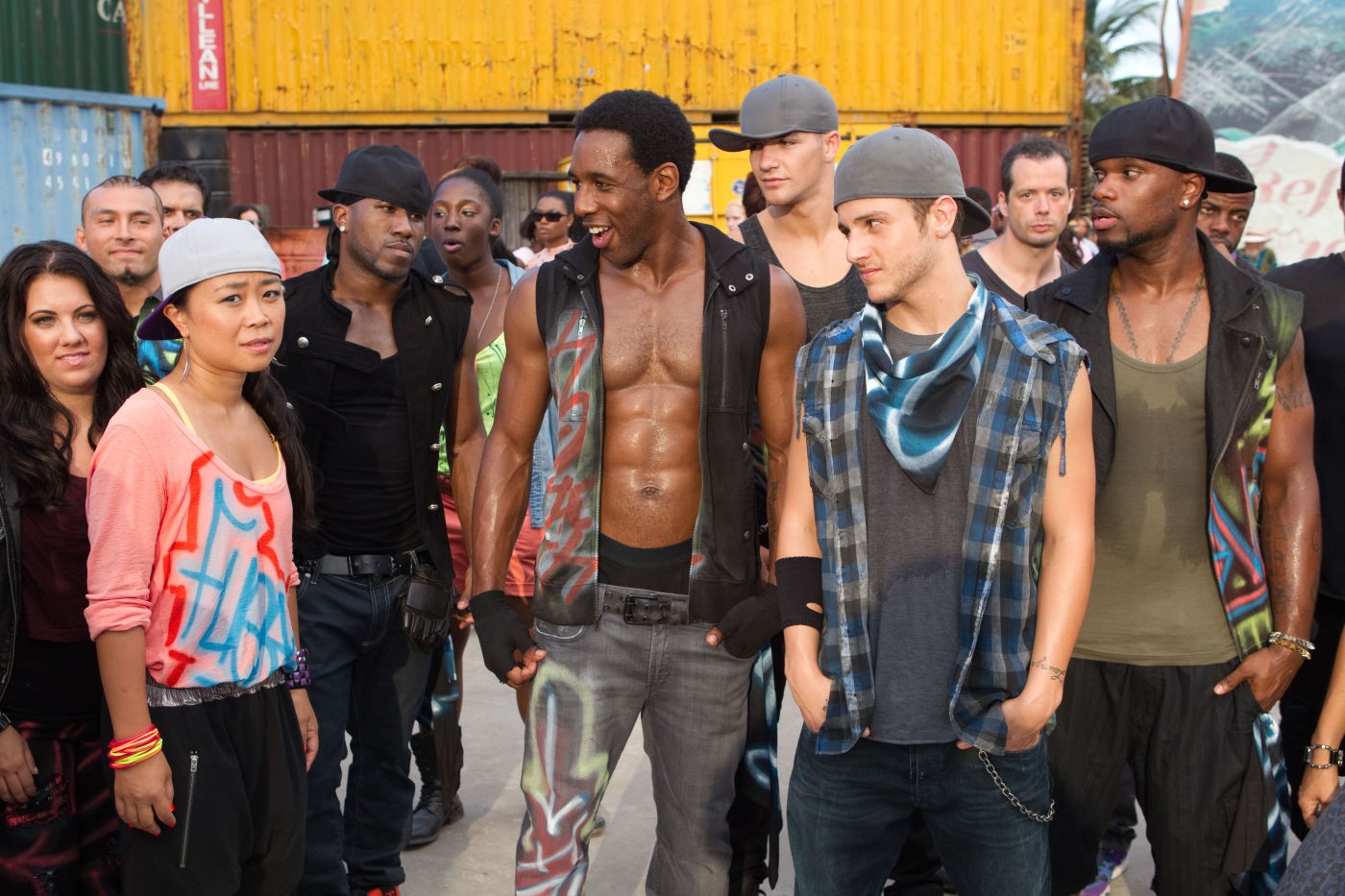 In "Step Up Revolution," people dance. They dance in the streets, in high-class art museums, in fancy pants restaurants. They dance on top of tables, on top of cars and on top of big crates by the docks. For the most part these people dance for performance art reasons, but later on when a hotel tycoon comes to their neck of the woods and threatens to develop in their home, it becomes protest dance, hence the "Revolution." It's mostly hip-hop dancing set to the tune of various artists, from M.I.A. to Flo Rida. But then there are also a few slower, ballet type numbers. In short, there's a lot of dancing. Dance. Dance. Dance. All day dance.
Well, that's not all that happens in "Step Up Revolution." Characters have to be established
(not very well though) and there have to be non-dance moments when "serious" plot points happen but that's just filler. The dancing is all that matters. That's the only reason why people will go see this movie, why people went and saw the first three "Step Up" movies, starting back with 2006's "Step Up," starring the now famous Channing Tatum. In "Step Up Revolution" I'd say there's about a 80/20 ratio: 80 being the amount of dancing and 20 being the amount of plot and bad dialog. The script by Duane Adler and Jenny Mayer, must have taken thirty minutes max to flesh out. The real work goes to director Scott Speer and choreographer Chuck Maldonado, for creating some very impressive dance sequences and cinematographer Karsten Gopinath for making them look so gorgeous.
The movie takes place in Miami (and by Miami I mean the most glamorous and sparkling sector of Miami) and focuses on a dance group called The Mob. They're a professional Flash Mob (if that even exists). Flash Mobs? You remember those YouTube videos where large groups of people break out in public places and start dancing? Anyway, the bottom line of the story: There's a pretty guy, Sean (Ryan Guzman), the leader of The Mob. And there's a pretty girl, Emily (Kathryn McCormick), a rich girl who joins the mob to rebel against her rich, greedy hotel tycoon father, who's trying to develop on The Mob's historic neighborhood…and whatever! We just want to see some dancing! Seriously! Did I mention there's a lot of dancing? People will literally be dancing in one place, walk over to another place where there will be two minutes of stupid, cliché plot followed by more dancing.
I'm not going to tell you to see or not see this film. It is what it is. If you liked the first three movies then I'm sure you'll like this one. There's no point in going over the performances, because acting is not required in these films. If you're attractive and can dance, you're in. My only critique with the dancing is that some of the moves can get a little repetitive, especially toward the end. But, OK, all right then.
People dance in "Step Up Revolution." Take it or leave it.
2/4